Personalized Books That Sell Themselves
Want a great business of your own? Jiff-e-Books, a leading supplier in the personalized book market for over 20 years, specializes in user-friendly software and high quality book supplies for your successful personalized children's book business. Jiff-e-Books is the only company that enables you to print 4-color, hard cover books without using preprinted pages and covers. This innovative process saves you hundreds of dollars in unused inventory and greatly reduces your initial startup investment.
Why a personalized book business? Almost everyone at one time or another has wanted to own their own business. With our opportunity, you determine the $$$ you make and the hours you spend. With our products behind you, you can be successful at your own business and enjoy yourself while you are doing it. Making and selling Jiff-e-Books personalized books is both fun and rewarding. You are providing an educational product that builds a child's self-esteem and encourages a love of reading. Parents and children will tell you just how much they like and appreciate the books you make for them.
| | |
| --- | --- |
| See the quality for yourself. We'll promptly send you a sample of our personalized books for a small handling fee of $5. Just click on the rabbit to order a sample book package. | |
The low inventory method. One of the problems with conventional systems for making personalized books is the high cost of inventory. We have solved this problem with our new all-digital process. Jiff-e-Books distributors literally create books on the fly as their customers order them. The secret is in the process. Our books are printed from scratch and not from preprinted materials. Instead of paying thousands for inventory with conventional systems, our distributors are able to print any titles their customers order from a minimum amount of inventory. What do we mean by "a minimum amount?" A minimum order with Jiff-e-Books is 50 books; the cost of 50 books is only $125. With these 50 books you could make any combination of our 22 titles, whatever your customers order. That's what we mean by "low inventory method."
For as little as $495, you can start your own business making money today. This low price includes license, software and materials for making 50 deluxe, hard cover books. Begin putting extra $$$ in your pocket with your first order. It's easy and inexpensive to begin making money with Jiff-e-Books. Choose our Basic Business Starter Package ,our Deluxe Money Maker Package, or our Pro Business Starter Package and get going. The Jiff-e-Books software is easy to use and making the books is a snap.
Only Jiff-e-Books has the all-digital process. Only Jiff-e-Books can greatly improve your profits. Why wait any longer when you have found the business that's right for you? Get started in only a few days with a business of your own making those extra dollars with Jiff-e-Books.
Choose Preprinted or Customizable Covers
Our latest innovation has combined the savings of all-digital printing of the book pages with the convenience of a preprinted cover. Our distributors have the choice between the customizable covers and the preprinted ones - at the same price. Click Here to see samples of the two types of covers.
Professionally written stories with 4-color illustrations throughout, edited for appropriateness by educators

Three sizes of personalized books: hard cover Deluxe and Large Soft Cover and Minis
Own a rewarding business that promotes reading and positive self-esteem in children
Lowest wholesale cost in the industry
No need for your money to be tied up in unused inventory - ends the cycle of the majority of your profits going back into inventory
Low startup costs - small amount of supplies required; use your computer and a color inkjet or laser printer.
Print the child's picture in any book. This is a great selling feature as well as an additional profit maker for you.
Software that's reliable and easy to use - online user's guide for easy reference
Unlimited support - we are always available for you by email or telephone
Trouble-free printing - no waste, no ruined preprinted pages
Rewarding - your customers will love the books, and you will love the reorders
Flexible - Work from home, work on location, sell on the internet. A great part-time business. None of the major marketing restrictions you would incur with licensed character books. License is not limited to one computer.

Be a part of the multi-million dollar children's book industry.
Many Opportunities to Market Jiff-e-Books that fit your time and your goals!
On-location Sales - Holiday bazaars, arts and crafts shows, flea markets, malls and special events are excellent places for on-location sales. Making books while a customer waits is always a top-selling method

Fundraisers - Jiff-e-Books personalized books are great for fundraisers! Churches, day care centers, parent-teacher organizations are just a few of the venues for fundraisers. It can be as simple as leaving samples and order forms at your fundraising location, or you can set up and sell on-site for an organization's fundraiser

Hospitals - Contract with a local hospital to provide every new mom with a keepsake baby book

Drop-off marketing - Drop off a Jiff-e-Book sample at an office building or other workplace. Return the next day and pick up your orders. This is a simple but effective way to sell books

Home Parties - Why not sell Jiff-e-Books at home parties? They can be sold alone or in combination with other popular home party products, such as jewelry, cosmetics, cookware, etc.
Our Background... Jiff-e-Books were created by Sally and Bill Graham. We have been producing personalized books since 1987. We were the first company to make personalized book software for pc compatibles. Now we are the first to offer all-digital printing of personalized books, eliminating the need for costly inventory.
What Dealers are Saying About the Jiff-e-Books Company:
Thank you so much! I thoroughly enjoy being a distributor of Jiff-e-books! What a perfect business for a stay at home mom! Thanks for giving such great customer service...Misty, W. Virginia
I've gotten rid of all the other book businesses/supplies I was in and kept Jiff-e-Books due to the ease of use and flexibility. I was tired of storing hundreds of different covers and inside pages for all the different books....Linda, Illinois
I am still in love with this new software. It's just really great and has made a major difference in sales...B. Kansas
I have had quite a bit of interest in the books. I did a fundraiser at my son's pre-school and the parents loved them...J. California (reading specialist)
What Customers Say About the Books:
I received the books today- WOW fast shipping and also, they are the CUTEST things I've ever seen! I just love them!!! What a great deal! The stories are just ADORABLE! ...Stephanie
Just received my son's book yesterday. I love it!...Dolores
The books are wonderful...they will be given at Christmas time to my little darlings. I have passed all your literature out and have shown the books around...hope you have a flood of orders!
Pat - San Diego
Learn How to Make Books with our Software
Our software has been custom-designed to be easy to use and reliable. From only one screen you can enter the personalized information, preview the book, add a picture of the child if you choose, and print the story. Simple, easy, efficient. Click here to see the entry screen.
Print the Child's Picture in any of our Personalized Books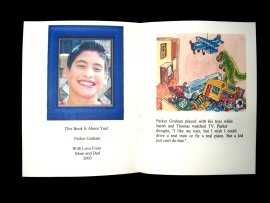 Jiff-e-Books for International Distributors
Hard cover books are very expensive to ship internationally, which can hurt profit margins for international distributors. In order to relieve our distributors from this burden, we are now offering our complete line of books in large soft cover format, based on the international A4 standard. Our Large Soft Cover Books are high quality books with an attractive soft cover. They measure approximately 15 cm X 21 cm; they are printed with color illustrations and feature the capability of printing the child's picture in every book. Once you have our software, you never need to have anything shipped to you again. All you need to order from us is the Jiff-e-Books Soft Cover CD and the number of prints you wish to be able to print.
Expand your marketing possibilities by offering Jiff-e-Books in Spanish without having to inventory covers and pages in Spanish. With Jiff-e-Books, the titles on the covers are in Spanish, not just the story inside.